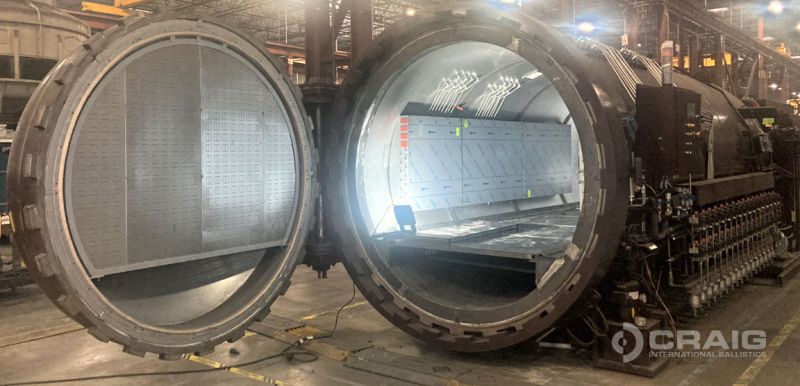 Briefs About The Making – Stories You May Have Missed
JAT Receives $ 10 Million Dairy Export Order, Opens Shanghai Store
Chinese export specialist JAT has received a large order for packaged dairy products to be produced at its recently expanded ANMA manufacturing facility in Victoria. The order, worth $ 10 million over the next 12 months, is for Oceania Supply Chain Management Pty Ltd, which has previously supplied JAT dairy products to Vietnam. Packing will begin in January 2022 and will use 20% of ANMA's current capacity. The company also announced that its long-planned Shanghai store opened on Friday. The store carries the full line of JAT's in-house brands including Neurio, Moroka, Lone Milk, Abbeyard and Hopefern, as well as other baby and mother products made in Australia.
Craig International Ballistics to commission a new autoclave
Craig International Ballistics has released a preview photograph of its new 5-meter autoclave being manufactured in the United States. This new equipment will allow its composite armor business to further diversify its hard armor plate offering and significantly increase its production capacity for defense and security products. Craig International Ballistics will commission the new equipment in early 2022 at its manufacturing facility in Queensland. Craig received a Sovereign Industrial Capacity Assistance Priority grant from the federal government, which made the autoclave possible.
EOS Defense Systems Australia appoints its first CEO
Electro Optic Systems has reorganized and expanded its subsidiary EOS Defense Systems, in order to support increased activity in Australia and to prepare for further significant global growth. The first phase involves consolidating an Australia-focused management and business structure, and investing in additional capabilities and capabilities. EOS Defense Systems (Global) CEO Grant Sanderson has announced the appointment of Matthew Jones as the inaugural CEO of EOS Defense Systems Australia. Jones initiated and led the Australian industry C4 EDGE collaboration and oversaw product development for the new EOS Titanis Counter UAS (C-UAS) system. Jones has 30 years of military, defense and defense industry experience in leadership roles in national security, systems integration, strategy, resource management human resources, training and policy development.
Siemens and Flinders team up for research
Technology company Siemens and Flinders University in Adelaide signed a memorandum of understanding to collaborate in defense, energy efficiency, and food and beverage areas critical to the state from South Australia. At the virtual signing event Jeff Connolly, CEO of Siemens Australia, said that now more than ever, industries and educational institutions need to work closely together. "The days of silos between universities and industries are over," said Connolly. "Only together can we truly form a future workforce with cutting-edge skills and out-of-the-box outcomes that will meet the needs of business and society. Flinders University is a founding partner of the Tonsley Innovation District and Siemens is a key tenant of the site, formerly the Mitsubishi Auto Plant.
Suntory produces a prototype bottle from plants
Suntory Group announced the successful creation of a 100% plant-based PET bottle prototype in partnership with US sustainable technology company Anellotech. The prototype was produced for the company's iconic Orangina brand in Europe, as well as its top-selling bottled mineral water brand in Japan, Suntory Tennensui. PET is produced from two raw materials, 70% terephthalic acid (PTA) and 30% mono ethylene glycol (MEG). Suntory's plant-based bottle prototype is made by combining new technology from Anellotech, a plant-based paraxylene derived from woodchips, which has been converted to plant-based PTA, and a MEG made from pre-existing plants made from molasses that Suntory has used in its Suntory Tennensui brand in Japan since 2013. Suntory employs 1,000 people in Australia and New Zealand, producing Frucor drinks, Beam Suntory ready-to-drink products and Suntory coffee . Suntory Group's ambition is to phase out the use of all virgin petroleum-derived PET plastic bottles worldwide by switching to 100% recycled or plant-based PET bottles by 2030.
Altech Chemicals raises funds for the development of battery materials
Altech Chemicals has raised $ 8.1 million in a stock offering that will enable the next phase of its battery anode materials development program. The money will finance the purchase of land, a pilot plant and the finalization of feasibility studies to pilot its technology developed in Perth for the coating of alumina of silicon particles and graphite in Germany. the company is planning a 10,000 tpa battery materials plant in the Schwarze Pumpe industrial park. Altech is now raising an additional $ 1 million as part of a stock purchase plan.
Photo: Craig International Ballistics
Subscribe for free to our @AuFabrication bulletin here.