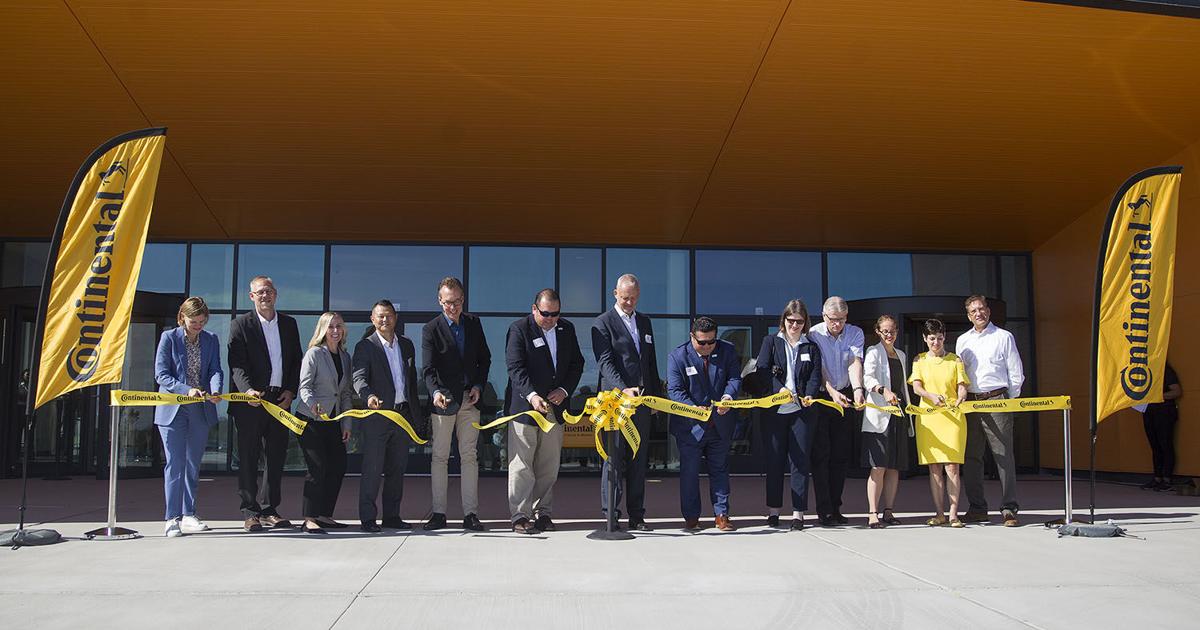 Continental Unveils State-of-the-Art Automotive Manufacturing Plant in New Braunfels | Community alert
It seems fitting that a town founded by German immigrants 177 years later becomes the headquarters of a German multinational's high-tech factory.
Hannover, Germany-based Continental lifted the curtain Wednesday on its new $110 million state-of-the-art auto manufacturing plant in New Braunfels.
The 215,000 square foot facility on Kohlenberg Road on the northeast side of town will manufacture components for the company's Advanced Driver Assistance Systems business, which includes radar sensors to support safety functions such as blind spot detection and forward collision warning.
Wednesday's event, a groundbreaking ceremony, marks the completion of the construction process, which began last year.
Approximately 150 guests, including state and local officials, community members and employees, joined to mark the occasion, which included an exclusive tour of the facility.
Plant manager Juergen Martin said the completion of the installation represents an important step in the company's long-term strategy to advance growth and innovation in autonomous mobility.
"I think the whole team is delighted with today because we worked very hard together to achieve this," said Martin. "We are becoming operational and it is very exciting. It is the technology of the future to enable autonomous and automated driving. The sensors we use here are essential to make driving safer. We want to save lives.
The plant also allows the company to expand its research and development efforts in assisted and automated driving technology as demand for smart safety features grows.
The facility represents the company's first automotive site in the United States dedicated to Continental's autonomous mobility business area, with plans to create more than 500 high-paying jobs with excellent benefits by 2026.
Over the past 25 years, according to Frank Petznick, member of the Automotive Board and head of the autonomous mobility business line, the company has researched and developed driver assistance systems that have become essential features vehicles today.
"We have tremendous growth in this area of ​​our business, and the addition of this new production facility will help us continue our trajectory to further advance technology," Petznick said. "At Continental, we are always looking for new opportunities to make drivers safer. New Braunfels will play a vital role as we continue to grow our ADAS business in North America and support our goal of vision zero – zero fatalities, injuries and traffic accidents on our roads.
Company officials also acknowledged the partnership with the City of New Braunfels, Comal County, New Braunfels Utilities, Greater New Braunfels Chamber of Commerce and New Braunfels Economic Development Committee to complete the plant. .
"People have a vision for this community," Pro Tem Mayor Harry Bowers said. "And beyond that, the part that I find transformational is that it's not just about manufacturing…but it's a manufacturing sector that we didn't have before that in New Braunfels."
In an effort to support manufacturing and technical education programs and as a new member of the New Braunfels community, Continental announced a donation totaling $20,000 to nearby school districts.
The society provided $10,000 in donations to the New Braunfels and Comal school districts as part of the ribbon-cutting ceremony.
The funds will be used to support district vocational and technical training manufacturing programs.
"We are thrilled to see Continental grow in our local community," Mayor Rusty Brockman said in a statement. "Not only will strong jobs be created in engineering and manufacturing, but New Braunfels will play a major role in shaping the future of mobility with this new facility. Continental has been a great partner throughout this process, and we look forward to continuing to work with them to create even more opportunities for residents.
Since 2011, Continental has invested approximately $4 billion in manufacturing, technology, facilities and product development in the United States, employing a national workforce of more than 15,000 people.