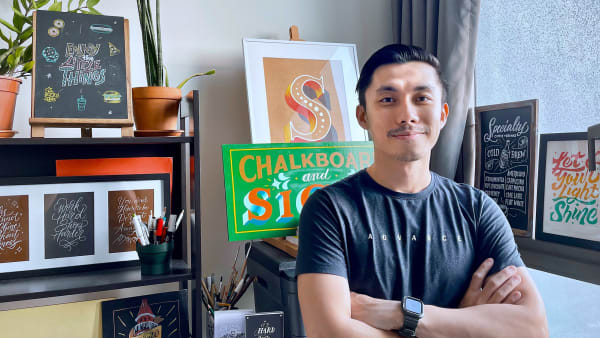 Creative Capital: The IT Executive Who Is A Wanted Chalk Lettering Artist
I wish I could tell you a better story, but who would imagine that winning calligraphy contests in school or being the go-to person for presentation notes on chalkboards and Manila paper would come in handy when I grew up?
I never imagined I could do lettering and calligraphy as a job.
WHAT DID YOU DO BEFORE BECOMING A LETTERING ARTIST?
I was working full time in the information technology industry before the change. Having grown up in a typical Asian household, my family places a high value on practicality and this is reflected in my initial career choice. Since I love computers, I thought I could be a CEO with a computer science degree.
At the time, I never thought I would do anything else, let alone consider working in the arts. Now I don't want to be the CEO of a tech company anymore. Instead, I'm the CEO of my own chalk lettering business, which I'm really passionate about.
HOW DID YOU LEARN YOUR CRAFTS AND GET STARTED?
Between 2013 and 2014, I started to feel lost and exhausted. I started having bouts of anxiety about the future – a quarter-life crisis, maybe? At that time, I had been working in IT for a few years.
I am grateful to my then manager, who supported me and provided me with a safe space to slow down and rest. I took a few weeks off and explored Singapore. Of course, it wasn't enough time to figure things out, but it did start a journey for me that I wouldn't have taken otherwise.
A month later, I started taking calligraphy workshops. Over the next two or three years, I explored different styles and mediums, from brush calligraphy to lettering and sign painting.
For months, I religiously spent at least 30 minutes a day drawing letters. That's when I knew I was on to something. I really loved the job. It was only a matter of time before my hands chalked up and when I did it was love at first sight.
ARE YOU READY TO TURN THIS PASSION INTO A FULL-TIME CAREER?
When I started my business three years ago, I looked at it through the prism of a scammer and was happy for the extra income from my day job. Through this exposure, I began to accept that lettering might be a viable option for me in the long run.