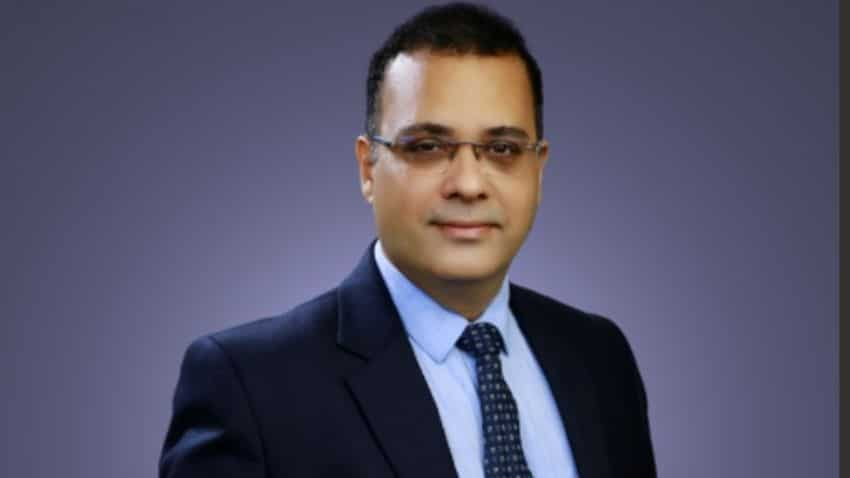 Dalal Street Voice: Focus on large caps in your portfolio amid the possibility of rising interest rates: Amit Gupta of ICICI Securities PMS
Amit Gupta – Vice President and Fund Manager, ICICI Securities PMS believes that with the rising trajectory of inflation, it is better to focus more on large cap stocks.
In an interview with Zeebiz's Kshitij Anand, Gupta said there are many large caps in sectors such as corporate-related banks, capital goods, telecoms, energy that have not performed these years and may begin to see good inflows.
Edited excerpts –
Q) Geopolitical events as well as expectations of a strong tightening from the US Fed have certainly fueled a feeling of risk aversion. What is your view and how should long-term investors view it?
A) Rising interest rates in the United States are almost a certainty given the sharp rise in inflation which is the highest in 40 years. In fact, the market has now started pricing in 5 rate hikes in 2022 with a possibility of a 50 basis point rate hike at the March 15-16 meeting.
Historically, we have seen that when US interest rates rose, the major move in US bond yields happened before the event.
During cycles of rising rates, bond yields do not show the same upward trend. In 2004-2006, despite a 4% rate hike, the US bond yield rose only 39 basis points and in 2016-2018, it rose only 90 basis points despite a rate hike 2.25%. Thus, significant market jerks are seen before the first-order rise.
Q) What are your thoughts on the December quarter results and what kind of projections do you expect for FY23?
A) Despite the pressure on margins, good volume growth was recorded in the Consumer Discretionary segment. Banking, IT and Energy also saw a healthy recovery in profits.
In fact, the third quarter was a seasonally weak quarter for IT companies, but they posted strong results with increased hiring, giving good earnings visibility.
Domestic earnings showed remarkable growth with Nifty EPS rising from 430 to 735 in 2 years, which is the reason for the market's resilience despite global headwinds. For FY23, EPS is expected to increase 18%.
Q) The last couple of months have been volatile, how have you positioned your portfolio to weather the volatility amid external headwinds?
A) When global headwinds are seen, it is always best to position the portfolio with domestic cyclicals. We have a good allocation to banking and financial services as well as cement, capital goods and telecommunications.
Banking NPAs have seen a steep decline from 11.5% to 7.3% over the past 4 years. Now, credit growth has also picked up from 5.5% to 8.2% in recent quarters.
With government capital spending up 35% expected in FY23, capital goods could also see a good backlog increase.
In addition, telecom stocks are on the road to recovery after the 20% price increase observed in prepaid. ARPUs have started to increase in this space.
Q) Inflation could definitely become a sore point for the economy as well as RBI – what trajectory you expect for the rate over the next 12 months. How should investors position themselves to deal with change?
A) With US rate hikes fairly close, rate hikes in India are also almost a certainty despite RBI's dovish stance. Historically, India's inflation was 250 to 300 basis points higher than that of the United States.
Today, the trend is reversing as the economy recovers from the post-pandemic impact and record stimulus is given by the United States.
Indian bond yields have already reacted to a surge in US bond yields and we believe they price in the rate hike cycle going forward.
India's inflation also increased to 6.01% from 4.06% last year at the same time. Rising crude prices could keep inflation stable for some time as geopolitical issues have also arisen.
Q) Small and mid caps have clearly outperformed over the past 2 years by a nice margin – how should investors view the space in FY23?
A) We believe that with a rising inflation path, it is better to focus more on large caps. There are many large caps in sectors such as corporate related banks, capital goods, telecommunications, energy that have not performed well in recent years and may start to see good inflows. We could see more money flowing into the value space in FY23.
Q) If someone manages a portfolio with dark red, what should their strategy be before the end of the financial year. Hold positions or exit stocks. In the event of an exit, what stocks/funds should investors exit?
A) Sectors, which had rallied well, succumbed to profit taking ahead of the rate hike cycle. Sectors like chemicals, metals, IT and consumers go through this phase.
Volatility may persist for some time, so investors should be prepared to seize opportunities that arise due to recent jitters.
Quality stocks only fall for limited periods, which doesn't happen too often. Look for earnings growth in stocks/sectors.
When the market becomes stable, strong increases will be seen in stocks showing higher than expected results.
Q) How do you see FII activity in the near future given that FIIs clearly remain net sellers? There's a saying that when FIIs come out, that's usually the best time to post profits?
A) Volatility increases due to lack of buying from FII. In FY22, FII net inflows remained only negative. However, when we look at the period from October 2020 to March 2021, we had seen one of the best inflows of Rs 2 lakh cr by FIIs in the Indian markets.
This is when Nifty broke through the last 4-5 year hurdle of 12,000 and moved closer to 15,000. Thereafter, FII flows have nearly dried up and they are waiting on the fringes of see the volatility before the first rate hike.
We have seen Nifty spend 6 months between 15,000 and 16,000 and now 5 months between 16,000 and 18,000. There may be more consolidation possible before new highs are seen again.
Q) Recent selling has been widely seen in high PE stocks, while low PE stocks haven't been sold much. Can we say that smart money is now coming out of high beta counters and high priced stocks?
A) Markets discount future earnings growth, where strong acceleration is already seen. More consolidation is possible in the future.
Money has moved from the richly valued sectors into the value space. In fact, P/E normalization is seen in Nifty also in the last two quarters of consolidation.
The price index is going nowhere, but corporate profitability as a % of GDP has recovered from a low of 1.6% (in March 2020) and is back to 10-year highs.
It is expected to reach 4.5% in FY23. This is where P/E multiples of 22x have been reduced to 20.4 in Indian markets, which should be a sign of relief.
Q) The government has notified the first phase of the green hydrogen policy. What does this mean for markets and which companies stand to benefit the most? Does this also mean that companies with high ESG ratings will be considered for investment by foreign funds?
A) Yes, the Indian government has a broader vision to reduce India's dependence on fossil fuels and promote cleaner forms of energy. Under this policy, the government will waive interstate transmission charges for 25 years to make green hydrogen and green ammonia.
Few companies like Reliance Industries seek major renewable energy CAPEX of Rs. 75,000 cr. in the next 3 years. Other companies are also coming forward, which should help them earn a good ESG score.
(Disclaimer: Opinions/suggestions/advice expressed here in this article are investment experts only. Zee Business suggests its readers consult their investment advisors before making any financial decisions.)