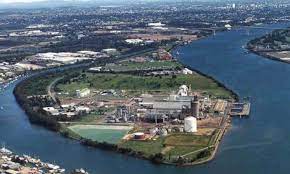 Incitec's Gibson Island manufacturing to cease at the end of 2022
INCITEC Pivot Limited (IPL) to cease manufacturing at its Brisbane-based Gibson Island plant at the end of December 2022 after exhaustive efforts failed to secure a long-term affordable gas supply from gas producers Australian.
In a statement, the company said it will remain committed to investing in Australia and will continue to provide high-quality products to agricultural customers from its manufacturing operations in Phosphate Hill and Geelong and through its international supply chains. .
Managing Director and CEO of IPL Jeanne Jean said that after 50 years of continuous production and reinvestment at Gibson Island, the company was disappointed not to be able to obtain affordable base gas for the plant.
IPL will focus on its Gibson Island green ammonia feasibility study in order to potentially reallocate the site for the future.
"We have kept our promise to pursue all avenues possible to continue using gas as a raw material for our manufacturing operations at Gibson Island, but despite significant efforts in recent months, we have not been able to guarantee affordable gas supply beyond the end of our current gas contract, "said Ms. Johns.
"We are deeply disappointed that this is having an impact on our loyal employees and their families. The well-being and safety of our employees is our top priority over the next 14 months, and we will offer our employees all possible assistance, including redeployment opportunities where possible.
"I would like to thank our many agricultural and industrial customers and suppliers who have supported our manufacturing operations on Gibson Island. We will do our best to support them in managing this transition.
"The Queensland Government's support for domestic manufacturing helped us secure our existing contract, and we are grateful for their support over the past few years as we sought to build a bridge to a long-term sustainable manufacturing base. at Gibson Island. "
IPL recently announced a partnership with Fortescue Future Industries (FFI) to conduct a feasibility study on the industrial scale fabrication of green ammonia conversion from renewable hydrogen at Gibson Island, potentially creating a low-cost future. carbon emission for the plant.
"The IPL feasibility study with FFI is an exciting opportunity aligned with our path to a carbon-free future. We will keep our employees informed of key milestones and how the potential production of green ammonia on Gibson Island could inform how we manage the planned closure of the manufacturing plant, "said Ms. Johns.
IPL will continue to operate its other major manufacturing facilities in Queensland, including a major fertilizer plant at Phosphate Hill, an explosives manufacturing plant in Moranbah, a joint venture partnership with an explosives maker and a manufacturing facility. high-tech blasting products.
Source: IPL