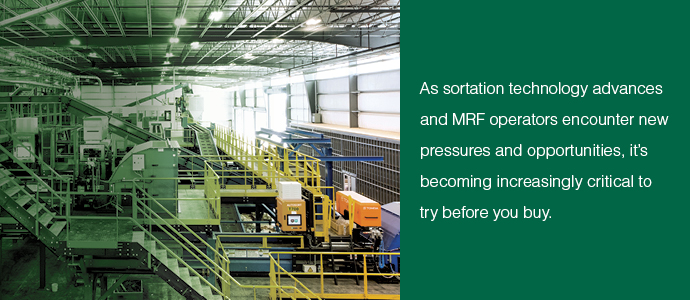 It's time for a test – Resource recycling
This article originally appeared in the April 2022 issue of Resource Recycling. Subscribe today to access all print content.
SSorting technology plays a vital role in the efficient capture of recyclable materials. It helps increase both the quantity and quality of materials passing through a materials recovery facility (MRF) while reducing the number of manual interventions.
Today, plant builders are moving optical sorting equipment further upstream to help sort fibrous materials. At the same time, higher resolution cameras, artificial intelligence (AI), and data collection can all be integrated into a single unit to maximize sorting flexibility and limit space requirements.
As sorting capabilities continue to evolve, equipment buyers find that testing plays a key role in choosing the right technology. TOMRA, for example, now performs around 600 tests a year at its test center in Mülheim-Kärlich, Germany. And VAN DYK Recycling Solutions operates the largest test center in North America, located in Norwalk, Connecticut, and serves waste processors as well as industry stakeholders, including brand owners.
In this article, we will outline some industry trends that are driving the evolution of sorting machines and adding to the importance of equipment testing.
Positive sorting upstream
Historically, fiber grades have accounted for most of the material volume in North American FRMs. While this continues to be the case, flow trends show less newsprint and more old corrugated containers (OCC) and smaller boxboard.
Because most contaminants are found in the smallest fractions of materials, newer MRF designs place optical sorters further upstream to remove impurities from the fiber. This reduces manual sorting and saves costs.
In many of these sorting systems with an emphasis on upstream fibers, material less than 6 inches is filtered and passed through an optical sorter. Rather than negative sorting which ejects contaminants, the sorter is programmed to positively sort and eject fiber, creating a much cleaner paper product.
Key to this trend is a breakthrough in air blower technology that allows for higher conveyor speeds (at approximately 900 feet per minute). Air boosters – in both closed and open conveyor designs – stabilize lightweight materials on these high-speed conveyors.
For MRF systems configured in a more traditional layout, new complementary optical sorting technology can help remove impurities from the fiber stream. For example, laser detection removes glass and black plastic from paper that near infrared technology cannot detect.
Not surprisingly, a number of different tools can be used to achieve these fiber goals, and testing different options allows an operator to develop a custom sorting strategy.
Extensive use of artificial intelligence
The use of artificial intelligence (AI) is rapidly evolving in the recycling industry, but some recyclers mistakenly believe that they must select a robotic arm sorter to realize the benefits of AI. In fact, optical sorters also incorporate AI functionality and offer the advantage of higher throughputs.
Working with a technology provider during testing can enable MRFs to gain AI advantages with optical sorters. All recycling AI solutions contain the same four components: a machine, a sensor to detect different material fractions, a processing unit to identify what the sensor "sees" and an ejection method.
The main difference between robotic arm AI units and optical AI units is the means and speed of material separation.
While optical sorters have incorporated forms of AI for decades, new optical sorter designs are now using the deep learning subset of AI for classification in data processing. Massive datasets allow sorters to "see" materials on the belt like a human with the added benefit of improved sorting speeds. Today's optical sorters with deep learning can perform more complex sorting tasks with higher purity rates.
MRFs looking to upgrade their systems and take advantage of the benefits offered by AI can often do so without adding to the footprint of the facility. Feed strip sensor add-ons and software updates can upgrade existing optical sorters without changing layout or significantly disrupting operations.
Data overview
MRF equipment vendors now offer cloud-based platforms that collect process data from optical sorters, balers, and many other plant components.
These programs allow recyclers to review critical operating data, including shift ratios, amount and type of material processed, line stoppages, and production totals per shift. All of this provides managers with the means to remotely analyze performance metrics and proactively manage machines for performance optimization.
Digitized material and production measurements also allow MRF operators to identify trends that can aid in planning and forecasting, including when different types of materials are typically received and in what quantities. It can further help manage material flow, tilting floor practices, and material loading to maximize efficiency.
Plus, with custom reports and alerts, the data systems help proactively manage condition monitoring, parts ordering, and servicing. Notifications can be enabled to alert service personnel when a component is nearing the end of its typical life to prevent unexpected circuit downtime.
By testing before buying, an operator can understand how different pieces of equipment can improve data measurements and reporting. Processors can also gain a deeper understanding of the broader possibilities in this evolving segment of the industry.
Advanced sorting of plastics
Pressure continues to mount on producers to use circular packaging. As a result, demand has increased in North America for high quality plastic flakes, and test facilities are installing flake sorting equipment to demonstrate developments in advanced sorting technology.
The increase in demand in North America reflects the global increase in flake sorting. In response to the trend towards quality systems that achieve high purity levels, TOMRA has opened a new test center in Parma, Italy. It is dedicated to the sorting of plastic flakes, in particular to the development of new applications and solutions for the sorting of polyolefin and polyethylene terephthalate (PET) flakes.
The facility is testing the recovery of PET and polyolefin plastic flakes as small as 0.079 inches (2 millimeters) to help recycling plants successfully generate higher quality plastic production. VAN DYK recently installed a plastic flake sorting unit on its test line, and several companies took the opportunity to test their equipment.
EPR impacts
Changes in legislation can have a considerable impact on the dynamics of recycling. When testing technologies, it is now more important than ever to consider the adaptability of a system.
As discussed at length in this post and elsewhere, several states are adopting an Extended Producer Responsibility (EPR) framework for packaging in an attempt to balance a municipal system that has at times struggled with economic swings.
EPR shifts the burden of covering recycling costs to producers, in theory incentivizing those with the most control over packaging design to select packaging that can be recycled effectively and to incorporate more recycled content into their packaging. Under EPR, producers manage the full life cycle of their packaging, including bearing the costs of collecting, sorting, recycling and disposing of their products.
Successful EPR systems typically include collection, recycling and recycled content targets. Mandatory targets are the critical driver for increasing both the amount of materials entering the system, as well as for recycling facilities to produce a cleaner, more valuable product.
MRF operators should work closely with their associations, technology providers and plant builder partners to evolve treatment systems that can adapt to the demands and opportunities associated with legislation.
Great brand attention
Increased consumer awareness and pressure is pushing retailers to demand more recycled packaging on their shelves. Meanwhile, brand owners are detailing higher recycled content targets for their packaging.
As a result, new packaging and label designs are regularly tested in test facilities. The trials ensure that existing sorters will be able to detect the material and get it to the right place at the MRF (rather than treating it as a contaminant). This is one of the ways brand owners are working to improve sorting efficiency.
Confluence of forces
Amendment of legislation to improve the circularity of fibers and plastic. Advances in sorting technologies and MRF designs. Emerging uses of AI.
As packaging formats and materials become more complex and producers come under pressure to meet higher standards over time, the case for testing becomes even more of a business imperative.
All segments of the value chain are working to push the needle towards circularity. Testing with a trusted technology vendor can help prove a concept, validate performance, and maximize ROI.
Germany-based Andre Lehmann is the Recycling Test Center Manager for TOMRA Recycling. He can be contacted at [email protected] Alex Wolf is the technical director of VAN DYK Recycling Solutions and can be contacted at [email protected]
This article originally appeared in the April 2022 issue of Resource Recycling. Subscribe today to access all print content.