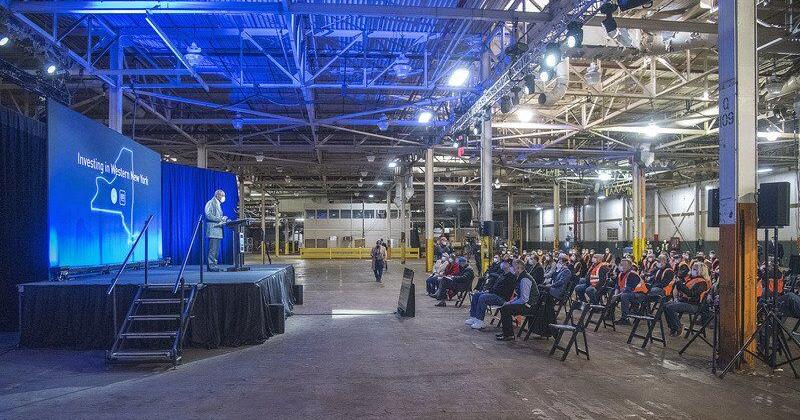 Lockport GM Plant Renovation Will Create Jobs As Electric Vehicle Engine Production Announced | Local News
The mood in Building 9 of the General Motors plant on Upper Mountain Road was one of patient excitement as workers, press and officials took their places in front of a large screen overlooking a small stage Friday morning.
Workers like Jayne Bil, a woman on the Local No. 686 shop committee, with more than 20 years of experience at GM from an HVAC unit manufacturing line; Lillian Tittle, quality control manager for 10 years; and Ryan Wendt, a production monitor, all knew the news about to be revealed was exciting and most likely good. They had all given their time, even over long distances.
"I have the labs in the factory, all the measurement labs," Tittle said, noting that she lives in Youngstown. "I started 25 years ago. I worked at American Axle. They are all the same. Manufacturing work.
Ken Johnson, GM Lockport Operations plant manager, was the first to speak and congratulated workers at the Lockport plant.
"I'm so proud of the work of all of you here, and I'm excited for you to find out what lies ahead in the future," he said.
Jeramy Huber, Acting Store Manager, UAW Local #686, also had a few words to say.
"Thank you all for your unwavering commitment and support. Together, our hard work and dedication has enabled Lockport Operations to play a key role in the future of General Motors," Huber said.
Then Gerald Johnson, executive vice president of Global Manufacturing and Sustainability, broke the news to a crowd of nearly 100 people.
"GM will invest $154 million here in Lockport, with the bulk of that investment supporting the production of electric motors for our groundbreaking GM electric platform, which will power all of our new electric vehicles, including our electric trucks and SUVs." , Johnson said. "It would be a good time to clap."
And they did.
Production will specifically consist of building stator modules, the part that creates a magnetic field to spin the motor, which will then go into the motors. According to Johnson, who was interviewed by the press after the announcement, GM begins to pivot immediately, but the project won't materialize until 2023.
"We have to bring in all the equipment, process the equipment, renew the space. It starts immediately," the executive vice president said.
He also said an average trader could make $90,000 a year.
"We would like everyone to be able to participate in STEM (science, technology, engineering, math) education, technical education, math, engineering, etc., but we will have jobs that I think , span the breath of high school, college and STEM," Johnson said.
"It's assembling stator motors here, which requires a handful of people to do the production assembly work, plus trades people to do the maintenance work, plus engineers to do all the work from bringing the processing up and up to speed," he said.
Senate Majority Leader Chuck Schumer also spoke, saying he had been approached by GM for "federal dollars" to go electric.
"I said, 'I'm going to help you,'" Schumer recalled. "'On one condition. We're increasing jobs in Western New York. I mentioned Tonawanda, the Lexington plant in Rochester, and of course the big plant here in Lockport.
Schumer said the 230 jobs created by power generation at the Lockport plant would continue to support the area for hundreds of ancillary jobs, restaurants, stores and shops.
"Over 230 jobs, all well paid, all unionized," he said. "
Mayor Michelle Roman said it was great news.
"We're very, very happy to see this happen here in Lockport," she said onstage. "Lockport was built on the backs of working people and workers and Harrison Radiator and GM have been the center of that for decades. When we lost that, we lost part of our community. When union work is strengthened, our community is strengthened."
Tim Rice worked for GM in Lockport for 20 years and now works as part of the global supply chain at Building 7.
"I'm really excited, looking forward to years of job security, good paying jobs and being part of something that we know will last a long time," he said.
"I've been here during the lean times and I've seen a lot of jobs disappear. Super excited to see jobs coming back and growing. That's exciting."
Currently, the Lockport plant has approximately 1,500 workers making radiators, condensers, heater cores, oil coolers and other parts for internal combustion engines in trucks and SUVs. The new positions would be filled between 2023 and 2026, the company said in a statement.
GM has set a goal of selling only electric passenger vehicles by 2035. It plans to spend $35 billion to roll out more than 30 new battery-powered vehicles globally by 2025, aiming to overturn Tesla as the leader in electric vehicle sales.