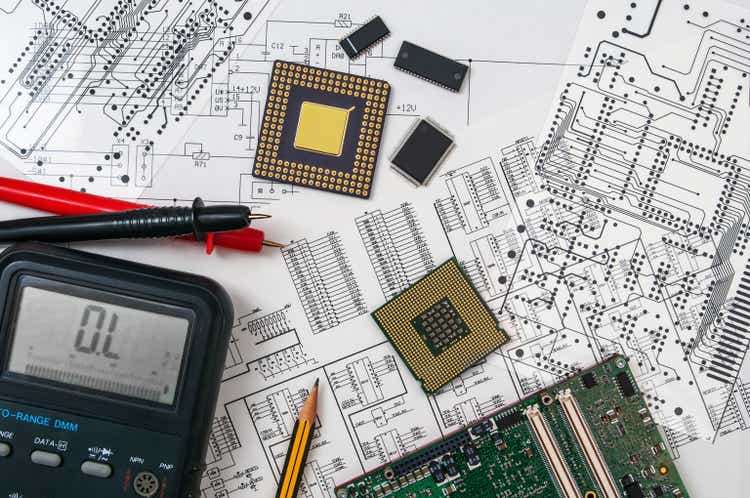 Photronics stock: key player in the semiconductor value chain (NASDAQ: PLAB)
In the current geopolitical context with a war in Eastern Europe, economic sanctions impacting Russia which also happens to be one of the world's main suppliers of raw materials, and supply chain bottlenecks caused originally by the Covid epidemic in 2020 which persists, it is crucial to be very selective for manufacturing companies that operate around the world.
One such company is Photronics Inc., based in Connecticut (NASDAQ: PLAB), a high-end industrial player in the design and production of photomasks used in semiconductor manufacturing.
Now investors will notice that despite being exposed to higher transportation costs due to the operation of nine manufacturing plants in Asia, Europe and the United States, the company has managed to increase its margins. gross at 31.54% in its most recent quarter, as shown in the orange chart below.
In addition, the increase in the EBIT margin to 23% demonstrates that operating expenses, which include R&D and sales components, are under control despite the increase in wage inflation in the United States.
Thus, Photronics demonstrates resilience, a key quality in the current macroeconomic environment and the objective of this thesis is to assess whether this can be maintained throughout 2022.
Leverage the importance of photomasks in the semiconductor value chain
First of all, a photomask is an opaque plate used in printing as part of the manufacturing electronic integrated circuits (ICs) and display panels. Since it accurately transfers the images and layouts of integrated circuits onto printed circuit boards, it plays an extremely important role in the development of advanced chips as technology moves towards miniaturization (or smaller components) for small devices, such as cell phones or sensors. Additionally, while the design of a photomask is determined by chip manufacturers like Taiwan Semiconductor Manufacturing (TSM) or China's Semiconductor Manufacturing International Corporation (SMIC) (OTCQX:SMICY), as part of their specific requirements, it is important that mask makers have a good understanding of the whole process.
This is the case of Photronics: the company's products have proven to be crucial for the production of state of the art chips for smartphones, PCs and screens. Its high-quality, precise and low-defect photomasks resulted in rising annual sales figures from 2018, with the Covid crisis of March 2020 having little effect on the progression, as shown in the blue graph below -below.
This has not been the case for the semiconductor industry, as shown in the worldwide billings chart above, which is plummeting due to the pandemic as social distancing measures have resulted in shutdowns. factories all over the world. In 2021, sales have picked up despite continued supply chain disruptions. An important point is that the World Semiconductor Trade Statistics Committee ("WSTS") predicts that chip sales will continue to increase in 2022, as shown by the red line above.
Sector revenues
In line with WSTS forecasts, Photronics was able to increase its revenue by a record 24.83% in the first quarter of 2022 which ends in January, compared to the same period in 2021. There is also had sequential growth of 4.7% in the October 2021 quarter which indicates positive business momentum.
The underlying reason for the strong growth was primarily its exposure to the rapidly growing Chinese semiconductor (IC) and display markets. These accounted for 40% of the company's 12-month revenue at the end of the first quarter. Thus, propelled by China's over 36% CAGR (growth) for the electronics sector over the past three years, Photronics has been able to appropriately position its photomask in AMOLED displays used for smartphones. As a result, sales in the flat panel display (FPD) segment increased by 27% on a yearly basis, as shown in the chart below.
Going forward, as the cost dynamics of AMOLED displays become more favorable, their prevalence across the value chain from high-end to mid-range phones is expected to increase, but executives expect that the FPD photo mask market will be flat in 2022 with growth only expected by mid-2023 when new factories in Korea and China are operational.
Yet, in addition to volumes shipped, the company has pricing power as supply remains tight, meaning DPF revenues may continue to rise throughout 2022.
In the second business segment, ICs, revenue grew 24% year-on-year, driven by strong demand for chips used in 5G deployment, automobiles using more electronic gadgets and consumer electronics using more integrated circuits.
Looking ahead, with continued demand for the IC and FPD segments, the company expects second-quarter revenue to be between $188 million and $196 million, with the midpoint of $192 million representing an increase of 20% compared to the same period last year. Now, there's quite a big difference between the high and low ends of the $8 million indicative range. This could be explained by the fact that high-end masks are sold at a high price, but with a low volume produced. Ultimately, this will depend on the number of orders fulfilled, which can have a significant impact on overall Q2 sales.
Diving into second quarter earnings expectations, adjusted EPS is expected to be between $0.32 and $0.38 (diluted). The midpoint of $0.35 would represent a more than 100% increase from last year's value of $0.13. This is due to improved profitability and should generate higher cash flow. Forecasts call for annual free cash flow of $200 million for 2022, more than four times that of 2021.
Estimates and takeaways
If you look at the industry as a whole, there is a group of Eleven companies such as Photronics which tend to dominate the global FPD photomask market. By selecting three of them for peer comparison, I get the table below.
The first observation is that Photronics is one of the smallest companies with a market capitalization of $1 billion in an industry comprised mostly of large Japanese hardware and industrial players that have diversified into semiconductor equipment. In these market conditions, it is important for the American company to have strong differentiators, and, moreover, according to management:
Our position in the market for advanced displays for mobile applications, particularly AMOLED and LTPS, is due to our advanced technology and first-class operations."
Second, its lower margins compared to pure-play Lasertec Corp. (OTCPK: LSRCY) can be explained by the fact that it is investing in new FPD capabilities. Here, the company's strategic repositioning of 2017-2018 included the construction of two new IC and FPD factories in China to $320 million. This bet to become a key supplier to the Chinese electronics industry while getting closer to customers has largely paid off with sales in the first quarter of 2022 in China growing by more than 100% compared to last year. The company also recorded 20% growth in Taiwan, its main market.
Going forward, investors can expect better long-term profitable growth, especially since the company has raised prices by double digits, except for the United States, which should not be an impact. major on margins, as this country only accounted for 14.3% of revenue in the last reported quarter. Moreover, given that Photronics has also relocated some of its R&D to China, this should help it better withstand wage inflation pressures in the United States.
On the other hand, this strong presence in China could prove detrimental in the event that geopolitical tensions with the United States return to the agenda. As suppliers of photomasks to semiconductor designers and manufacturers, located on both sides of the Pacific Ocean, any price increases could impact the development of new chip and display designs.
With de-risking and with a net cash position of $217 million (after debt forgiveness), and with the majority of sales occurring outside of China, Photronics has time to diversify its revenue streams . The company is also expected to be helped by a 2-3 month backlog of unfinished work for customers, up from 1-2 weeks previously.
However, during this period the stock will be very volatile and this may explain why Photronics is undervalued relative to the IT sector, both in terms of earnings and sales. Therefore, given the non-GAAP P/E multiple of 15.14x, which is a 26.4% discount, I value the company at $21-22 based on the current share price. of $17.5.
Finally, this highly undervalued U.S. photomask producer with good cash metrics that spent $2.5 million on stock buybacks in the first quarter is a buy. Don't expect the stock to hit the $20 level anytime soon, as the Fed being more aggressive on the rate hike seems to have induced a higher degree of uncertainty among investors.