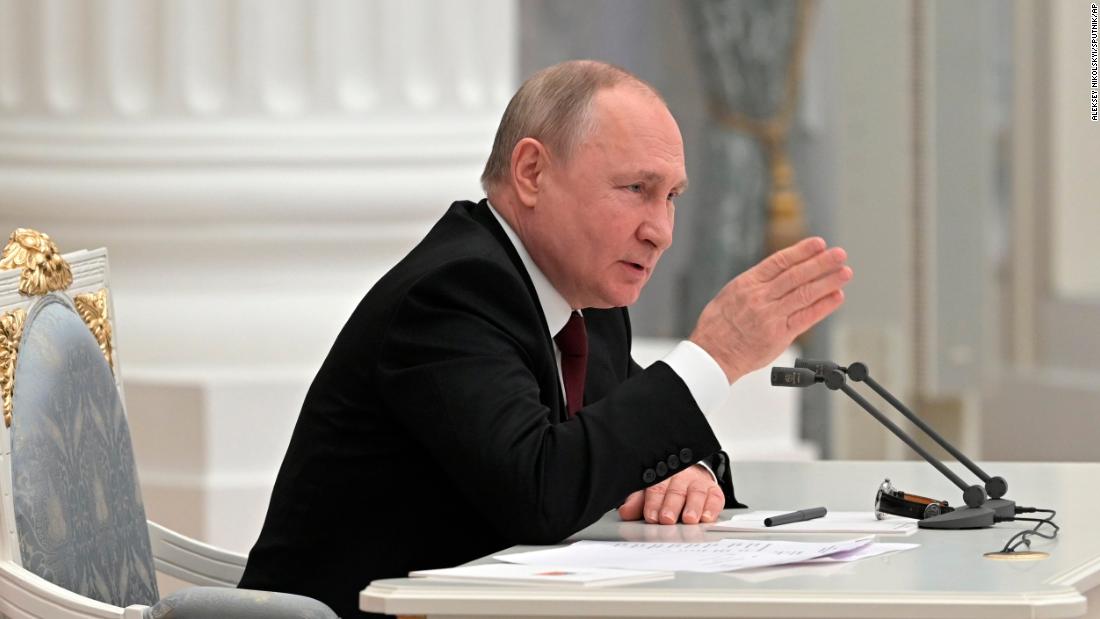 Putin sends troops to pro-Russian regions of eastern Ukraine
In a fiery speech on Monday evening, Putin lambasted Kiev's growing security ties with the West and, in lengthy remarks about the history of the USSR and the formation of the Ukrainian Soviet Socialist Republic, appeared to throw doubt about Ukraine's right to self-determination.
"Ukraine has never had traditions of its own state," he said, calling the eastern part of the country "former Russian lands".
The decrees signed by Putin conveyed Moscow's official recognition of two breakaway territories in the Donbass region of eastern Ukraine, the Donetsk People's Republic and the Luhansk People's Republic (DPR and LPR). The decrees recognized them as independent states and guaranteed their security with Russian troops. The decrees stipulated that so-called Russian peacekeeping forces would be deployed in the regions.
A senior US administration official said the speech was intended to "justify war" to the Russian people and amounted to "an attack on the very idea of ​​a sovereign and independent Ukraine" using "a certain number of false assertions" intended to justify the army. action.
"The human costs of a new Russian invasion and occupation will be devastating," the official said.
Ukrainian President Volodymyr Zelensky addressed the nation on Tuesday morning, saying Russia's actions violate the country's "national integrity and sovereignty" and that Ukraine's international borders "will remain as they are."
"We are on our land. We are not afraid of anything or anyone. We owe nothing to anyone and we give nothing to anyone. And we are convinced of that," Zelensky said in his video speech.
He said Ukraine had initiated an emergency meeting with the Normandy Four, which also includes Germany, Russia and France.
The separatists in eastern Ukraine have long enjoyed substantial support from the Kremlin, with US, NATO and Ukrainian officials saying Moscow is providing them with advisory support and intelligence, and integrating its own officers into their ranks. Russia has always denied having its own troops on the ground.
Moscow has also handed out hundreds of thousands of Russian passports to residents of Donbass in recent years, with Putin attempting to establish the facts on the ground by naturalizing Ukrainians as Russian citizens. Kyiv and the West maintain that the region is part of Ukrainian territory, although the Ukrainian government claims that both regions have effectively been occupied by Russia since 2014, when the conflict in eastern Ukraine began.
On Monday, US Secretary of State Antony Blinken called Putin's decision to recognize breakaway regions "a clear attack on Ukraine's sovereignty" and said US President Joe Biden would sign an executive order banning "any new investment, trade and financing by American persons for, from and in the so-called "Donetsk and Luhansk People's Republics".
Biden said last month that "if assembled Russian units cross the Ukrainian border, it is an invasion. But there will be a severe and coordinated economic response which I have discussed in detail with our allies, as well as very clearly spelled out for President Putin."
Earlier Monday, Putin held a highly choreographed televised meeting with his senior officials, accusing Kiev of committing acts of aggression.
Putin also accused the West of threats and blackmail during the previously unscheduled Russian Security Council convening which, in an unusually theatrical setting, was televised.
The show aired just hours after the White House announced that US President Joe Biden agreed "in principle" with Putin to French-brokered talks as long as Russia does not invade Ukraine further. The Kremlin said earlier Monday that there were "no concrete plans" for a meeting.
Speaking about the possibility of talks with Biden, Putin – who had two lengthy phone calls with French President Emmanuel Macron on Sunday – hinted he was skeptical.
"Yesterday I spoke with the French President twice, the second call lasting until about 2 a.m. He assured me that the American position had changed somewhat. But when I asked what Were those changes, he unfortunately could not say," Putin said.
Then he refers to remarks made on Sunday by Blinken, who once again stressed that the issue of Ukraine's NATO membership is "a matter for Ukraine and for NATO".
The assurance that Ukraine would not be admitted to NATO in the future is one of the central demands of the Kremlin.
With his senior officials gathered before him at the extraordinary meeting of the Security Council, Putin appeared following claims made by the Russian military earlier on Monday that troops and border guards engaged in a clash with a "group of sabotage and reconnaissance of the territory of Ukraine" inside Russian territory.
"Russia has always tried to resolve all conflicts by peaceful means. Nevertheless, the authorities in Kiev carried out two punitive operations in these territories [Donetsk and Luhansk]and it looks like we are now seeing an escalation for the third time," Putin said, without giving further details or details.
CNN has not independently verified reports of a clash on Russian territory. Ukraine's Foreign Minister Dmytro Kuleba denied that a clash had occurred, saying on Twitter: "I categorically refute the misinformation from the Russian Federation."
Kuleba said that Ukraine "did not attack Donetsk, Luhansk, did not send saboteurs or armored personnel carriers across the border, did not fire into the territory of the Russian Federation or the border checkpoint, did not commit sabotage, does not plan such actions."
The increase in Putin's combative language came as tensions rose again in eastern Ukraine.
The joint Ukrainian forces operation said it had recorded 32 ceasefire violations as of 4 p.m. local time, a number roughly in line with those at the weekend.
New satellite images showed increased activity among Russian units near Ukraine's northeastern border and Ukraine's Defense Ministry said it recorded dozens of ceasefire violations on Sunday.
Defense Minister Oleksii Reznikov said on Monday that Ukraine saw no withdrawal of Russian forces from positions near the border.
And in a further escalation, Belarusian officials announced on Sunday that joint Russian military exercises in Belarus that were due to end this weekend would continue, implying that Russian forces could extend their stay.
CNN's Nathan Hodge, Anna Chernova, Kevin Liptak, Josh Pennington, Sarah Dean and Amy Cassidy contributed to this report.