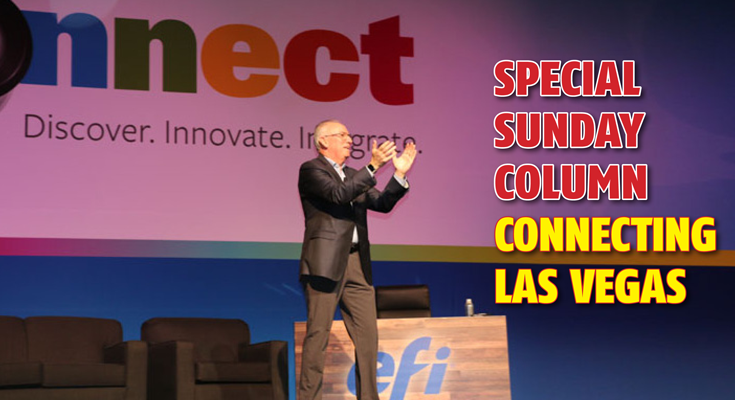 Special Sunday Column: Connecting Las Vegas
"We are blessed to be back here. We couldn't be happier," EFI CEO Jeff Jacobson said during his keynote launch on January 18, 2022. The 22nd annual Connect conference is returned to Wynn Las Vegas Resort; and is hosted in person in Las Vegas, USA this year. In 2021, EFI Connect was a virtual event.
EFI CEO Jeff Jacobson, who will complete 35 years in the print industry in April, skipped the traditional one-man keynote address, instead bringing an element of fun. During his fireside chat with UPS CMO Kevin Warren, they talked about motivation with a strong diversity and inclusion program, and the success of the UPS "Proudly Unstoppable" campaign. Digital innovator and UPS CMO Warren said, "We will always talk about seeing around the corner, anticipating where the puck is going versus where it is…I knew digital could be a really good game for UPS.
There were many more.
EFI announced last week the sale of EFI's Productivity Software division. Portraying the sale, using printed elephant graphics, as "the elephant in the room", Jacobson invited Gaby Matsliach, the new CEO of eProductivity Software, to join him on stage and introduced him to the public.
Stating that a lot has changed in the past two years, particularly in the way we operate, Jacobson said inflation and employment issues, as well as supply chain issues, have had a impact on printing. "Analog-to-digital conversion is something that EFI has kept its focus on and has done for the past 30 years."
Next on stage, Jacobson invited Marco Boer, VP of IT Strategies, to join him, to talk about the current print script. "First of all, I think the whole Covid pandemic has exposed the underbelly of our supply chains, and it's become very apparent. Now we're running out of paper. We're running out of chips. We're running out of labor- work. And it affects the printing industry in different ways. Some negatively, but some positively. So if you look at the negative trends, you can imagine that nobody is photocopying and printing things in desks. Still, there are some really nice positives that you probably wouldn't necessarily recognize. One of my favorites is books. You wouldn't have guessed this ten years ago, but printed books ( commercial books) have increased over the past five years. And during the pandemic, there's only a limited amount of Netflix anyone wants to watch. And so book sales have increased," Boer said.
Jeff Jacobson with Marco Boer
The pair then discussed opportunities in print applications such as decor, textiles and e-commerce packaging.
Doug Edwards, EFI's Chief Technical Officer and EFI's Vice President of Global Marketing, and Ken Henulec then took the stage to talk about EFI's inkjet advancements.
Jacobson said, "In my 35 years, I've never seen an opportunity like I see with Fiery, with productivity gaming software, but I can tell you what we're seeing in the industrial markets and the industrial inkjet, and analog-to-digital conversion. , I have never been so excited. And when I think of the four segments – display graphics, construction materials, textiles and packaging, I couldn't be more excited."
Edward added that EFI introduced nine new printers last year. "EFI has a tradition and history of being able to take advantage of technology. We've done it in one pass now for printing ceramics, leather, packaging and display graphics, and more recently we've moved into metallic decoration as well.
Edwards also pointed to the potential of water-based inkjet. He said 2022 would be a big year for new products, especially Nozomi, with 50% fewer parts and its footprint shrinking by 10 feet.
EFI introduces a new entry-level large format printer – EFI Pro 30h. The kit that has yet to be launched is a hybrid printer, capable of printing roll-to-roll and flatbed. It prints up to 1200 dpi in CYMK and has two channels for white printing. The 3.2 meter wide Pro 30h can print on both rigid and flexible substrates. The large format printer was equipped with a Ricoh Gen5 printhead.
Fireside Chat with Kevin Warren
Jeff Jacobson also led the fireside chat with UPS Executive Vice President and Chief Marketing Officer Kevin Warren, which focused on the evolution of digital and e-commerce, and an in-depth, focused perspective. on data on the impact of digital on business, now and in the future.
Highlights of the four day event
With 130 breakout sessions, EFI Connect featured the latest tips and trends across all industry segments supported by EFI. This includes sessions addressing the growing opportunities for analog-to-digital transformation using EFI's solutions for industrial corrugated and packaging, textiles, and building/decorative materials.
EFI Connect also marked the launch of an innovative prepress product for graphic display businesses, EFI Fiery Prep-it software for the preparation, layout and automated production of print jobs for die-cutting.
"As the industry struggles to regain its footing after a difficult few years, EFI customers and partners come to Connect to learn about actionable strategies and important technology developments that could be critical to their future success," said Ken Hanulec, Vice President. of global marketing, EFI. "And, more than anything, this year's conference reflects the community, collaboration and innovation that print companies can use to seize the growing opportunities of the analog-to-digital transformation of the industry."
New kit to watch
The EFI Pro 30h is a 126 inch wide UV LED printer capable of printing up to 2,477 square feet per hour. The superwide flatbed/roll-to-roll hybrid solution is for companies targeting production display graphics as a growth opportunity.
The FS500 Pro The platform is scheduled for release this quarter with new desktop and sheet-fed production systems from several of the world's leading digital printer manufacturers. According to EFI, the new advanced DFE platform for cut-sheet and commercial digital printing processes graphics-intensive jobs up to 50% faster than previous EFI Fiery DFEs. Additionally, a Fiery JobExpert feature for the DFE can streamline job preparation tasks, saving valuable time by automatically choosing the correct color and imaging settings. The Fiery FS500 Pro also offers a large collection of additional innovative new features that address key challenges faced by print businesses, such as shorter print runs, faster turnaround times, less experienced staff, standards increased security and the need to reduce costs.
The DFE Fiery Impress can drive entry-level, mid-range, or high-volume inkjet equipment on a range of hardware platforms. For example, users can produce TIFF files to a storage location for entry-level CMYK digital presses, or produce fast, RIP-while-print output of variable data content to seven-color digital presses at large volume and continuous feed.
As Toby Weiss, COO of EFI Fiery, said, "A lot of people are doing their jobs for the first time. He added, "It takes longer and mistakes are made." Fiery automation mitigates human errors, closes gaps and improves processing speed.
"We pulled out all the stops and the new Fiery S500 processes files 50% faster than before. If something took five minutes, it could take two and a half minutes now," Weiss said.
Size effect of the EFI portfolio felt in Las Vegas
Like PrintWeek reported on January 13, EFI spun off its Productivity Software business into a stand-alone business, with the division being acquired by private equity firm Symphony Technology Group and renamed eProductivity Software.
Concretely, this means that EFI will sell its MIS wing and concentrate on the Fiery and inkjet activities.
This was evident on the show at the event, with EFI presenting a world premiere for the new Fiery FS500 Pro digital frontend, billed as the "most advanced print server" in EFI's 30 years in the business. DFE.
/news/special-sunday-column-connecting-las-vegas-55624
Special Sunday Column: Connecting Las Vegas

https://www.printweek.in/Utils/ImageResizer.ashx?n=http://img.haymarketsac.in/printweek/5d2d8cfe-d09d-46e6-a90e-100e73d3bed6.png