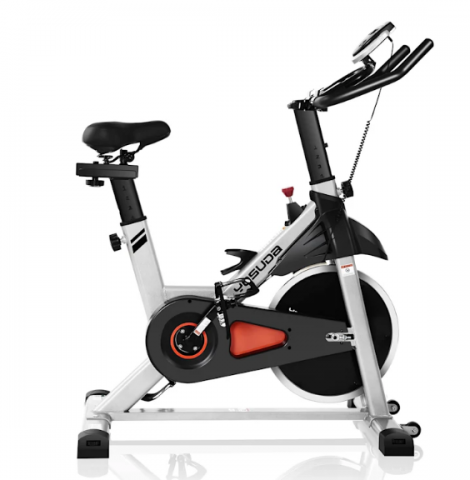 Yosuda Bikes announces partnership with Movements
"Yosuda" one of the best indoor exercise bike brand and "Movements" announced that the companies have entered into a strategic partnership that will not only keep Yosuda bikes Markconquer the market but will keep the group in good health on the roads this summer.
The agreement brings together Yosuda the best-selling indoor bikes Mark, whose foundation rests on the pillar of fitness and Movements that the best running group has signed on intrepid records.
Yosuda is a brand offering premium indoor cycling products. The principle behind the foundation of Yosuda is to stick to the health line. Family fitness is the top priority of Yosuda services. Yosuda not only owns the most advanced and technology-based equipment, but also appreciates quality.

Yosuda takes every step with the sole motto of keeping the product quality and sufficiently high services and believes in improving quality by creating a trustworthy fitness brand (Yosuda) and Movements, a leading group that organizes concerts and live events. Movements are not just about fearless rocking events, but are ready to use YOSUDA ​​YB001 bike to encourage fans to stay fit and healthy.
True to this motto, Movements isabout to integrate the YOSUDA ​​YB001 as a fitness equipment. The Yosuda YB001 indoor bike is best suited for the fitness and well-being of the team, not only physical but also mental well-being.
Yosuda is a company offering indoor cycling products, and no one can beat the quality of high-end smart bikes from Yosuda. A typical YOSUDA ​​YB001 bike features a wide variety of movements that participants can perform, whether standing or sitting on the Yosuda bike.
In addition to this, the participant can increase or decrease the resistance of the Yosuda bikes flywheel just by turning the knob.. Furthermore,Yosuda bikes offer a significant number of movements including sprinting, hovering, jogging, climbing and jumping.
Under all these fitness-promoting characteristics, Movements is about to get acquainted with the Yosuda bikes and announced the partnership with Yosuda. This partnership will keep fans passionate about physical and mental fitness. This partnership will help the Movements team stay fit and healthy and help the group keep their fans passionate about fitness and health, which is their ultimate goal.
About Yosuda Bikes
Founded in 2018 by Eric Zeng, Yosuda is a brand based in California (United States) and Yiwu (China) that upholds the principle of family fitness, healthy living and attaches great importance to ensuring the quality of products in the case of continuous aesthetic improvement while striving to be a trustworthy fitness brand.
As a family fitness brand, Yosuda mainly sells family fitness equipment such as stationary bikes, desk bikes, etc. In the future, the company hopes to introduce high-end traction equipment, trampolines, treadmills, and private customization.
About movements (group)
Movements is a band founded in 2015. They are known worldwide for their music which is a mix of post hardcore, lyrics and alternative rock. The group is signed to Fearless Records and has over 100,000 Instagram followers, 40,000 Twitter followers and 86,000 Facebook followers. The movements arenow willing for the partnership with Yosuda to encourage his fans on physical fitness and mental well-being.
Media contact
Company Name: Yosuda Bikes
E-mail: Send an email
Telephone: +1 (415) 209-5707
Country: China
Website: https://yosudabikes.com/